The most exciting game of the World Cup is currently under way and I feel compelled to write about it. After 60 minutes of play we've seen some of the biggest names of the international stage prove their worth, and one or two seem to have black marked themselves voluntarily. Prove yourselfves now lads it could be your last chance.

The opening goal was an absolutely Brazillian pass from Melo that scythed open the Dutch defense and allowed Robinho to slot a simple finish past Stekelenburg. 1 – 0 and the Dutch begin to make attacking moves. It seems as though this Brazillian defence has been told to slash Robben down every time he gets near the ball. Michelm Bastos going through him this time. The Brazillians are blasting Arjen with verbal abuse every time they foul him. Blinkers off, lads.

Schneider proceeded to cross the ball and claim a goal from Filipe Melo's head. Although accidental he's been absolutely key in both goals so far. 1 – 1. Sneijder looks chuffed.
Corner to Holland and as the cross comes in work-a-day Dirk Kuyt nods the ball onwards (accidentally, knowing Kuyt) to Sneijder who heads home. 2 – 1 in the 68th minute and its all to play for. Brazil look shaken.

Melo gets himself sent off. If anyone you'd say that Wesley. S would be the star of the show, but you cant take away from Melo that he's gotten enough attention from officials and fans alike. Stamping on Robben's
calves in a vain attempt to get the ball sees a straight red. It clearly is deserving of a red, but Robben uses the classic response by rolling around and asking for the blues and twos of an ambulance van. Hire an agent, Robben – you could make it on broadway!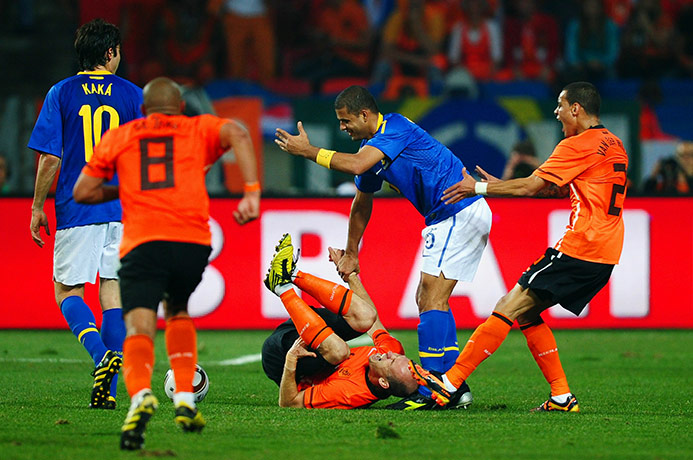 Van Persie in on the shot, but he's let it get away from him. Sneijder manages to snap the shot away. Saved.

Van Persie off for Huntelaar. 5 minutes on the clock.
Drik Kuyt in! He's run the whole pitch and he's suddenly on the edge of the box. One defender on his heels! Oh he's given up.. lost possession.

Dani Alves with the weight of the world on his shoulders. A freekick just outside the Netherlands box. So many HUGE stars on this yellow/blue squad, and it's Alves to take. Oh he's kicked it really hard at the wall. Suprise.
Freekick just inside the Brazillian half 91 mins 45 seconds. All hands on deck for the final push. Nothing.
In their very last gasp of the game Alves sends the ball over the top to Lucio, keeper claims. Final minute.
A quick dispatch from the keeper and the ball drops to Huntelaar! No Brazillian defense to speak of! He's cut it back to Robben! NO! What?!?!!!! Why not just hit it at the goal?! The Brazillians did well to come back and clear their lines, but that should've been 3 – 1. Maybe Huntelaar can be excused for not being warmed up yet, but that was a shocker.

7 seconds on the clock. Throw in to Robinho who tries to jink. Whistle blows! Holland win!
Final say from the commentary team: "Brazil's next world cup game will be in Brazil. 4 years from now. "Kaka goes into the list with all the other players who didn't even come close to performing well, let alone in top gear.

Could be looking to get the organisers to arrange van rental for the amount of blubbering fans that now fill the stadium. I'd sympathise if we hadn't been so readily ejected in the previous round. The Germans are going to win again, aren't they?
Oh World Cup, you do treat us poorly. :(