Hoooooray! Maybe it's not quite time to celebrate, but at least we managed to scrape our way through the group stages. If you're struggling to keep up then there's either something wrong with you, or you need to come out of hibernation.
I'm talking of course about England in the world cup. After shocking performances against the USA (1, 1) and Algeria (0, 0) we just about managed to claim victory with the shin of Jermaine Defoe's righty. Through to the last 16. On to the Germans, and on to a loss I suspect. The Argies will follow, regardless. This is the end of the line, lads.

Amidst all of the world cup action there are crazes kicking off all over the place. We've got Vuvuzelas causing trouble in the NBA across the pond, we've got fans of all nations from all over Africa wearing the homemade hats of one particular chap with a basement and an idea, and African pride has found its way into households across the globe. Rightly so!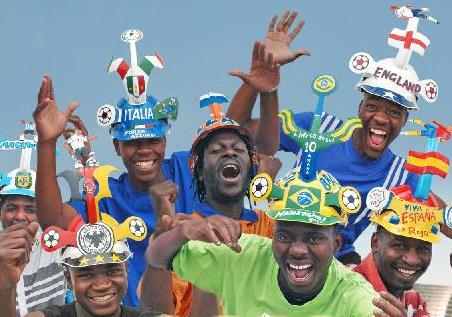 I cant help but wonder when exactly we're going to get sick of it all. I remember the first match of the world cup when South Africa started bouncing out Bafana Bafana and the sound of a human-sized wasps nest: we were intolerant and grumpy in true English fashion. Too much noise, too much colour, too many distractions. We'll show them how to do it with our classic Knight costumes and our painted St George faces, we said. As the World Cup draws on we seem to have embraced the sound of the bees and some have even purchased there very own Vuvuzela (which I can tell you now is the most expensive cheap-plastic-fad I've seen in a while (they really are flimsy things – £10 on average off the net)).
Is it just me that can see EXACTLY what's going to happen? For a start we're going to need to get on some van hire as a nation. Looking at the history books we're not due to win the World Cup ever again, let alone this year. So when we finally let the last gasp escape our lips as whatever referee we want to berate puts the whistle to his, when we realise that we do have a team of superstars, but no team, when we realise that employing a foreign manager is NOT THE WAY OF THINGS and bow out of the tournament… what happens to our   love of Africa and their footballing antics? It goes out of the window.
1) Get excited for   Cup and for England.
2) Grumble at the distraction of Vuvuzelas.
3) Clear group stages and buy hundreds of thousands of yellow/red plastic horns.
4) Get knocked out of Cup.
5) Van Rental to remove TONS of discarded gimmicks.
6) Begin hype for Euro finals in 2 years time.
You can tell me I have no faith. You can tell me I lack the spirit and belief of an Englishman, but you'd be wrong. I have faith.. I believe.. Our team does not.
Capello does not.